Global Longevity Metaverse creates a high-tech space for millions of scientists, doctors and patients, which provides people with the most advanced technologies to preserve their health, prolong life on the terms of high-quality longevity.
Global Longevity Metaverse provides an opportunity for every person in the world, regardless of place of residence, social status and financial potential, to control their health and vital diagnostic indicators. Active high-quality longevity depends not only on high-quality and timely treatment, but also on the prevention of diseases with the help of associated artificial intelligence, which fixes the slightest deviations from the norm and warns about it in a timely manner.
Global Longevity Metaverse is supported by high-tech hardware, a unique network, the necessary computing power, a Global Longevity virtual platform with appropriate tools and exchange standards, a specially created payment system with LGV and LGVM cryptocurrencies, serving all the necessary content, assets and services.
Global longevity is a decentralized, scalable ecosystem that creates a full spectrum of living conditions for quality longevity. It uses all the latest achievements of world science and works on the IT platform for the personalized management of life span based on blockchain, neural networks and machine learning.
The Longevity software token is generated by Global Longevity and provides its owners with access to the company's current and future services. Global Longevity embodies the best technologies and years of experience in the longevity market.
Become part of a decentralized ecosystem
GLOBAL LONGEVITY METAVERSE
I decided to live forever. And so far everything goes well.
THAT CAN BE PURCHASED FOR LONGEVITY
Apartments and Land near the sea (purchase and rental)
Wishing to buy property in attractive resort and recreational areas also opens up broad prospects and opportunities. Especially popular among foreign citizens is the region of Georgia – Ajaria, and in particular the city of Batumi – a port city, where they go for a unique flavor.
Diagnosis and Treatment
A complete diagnosis of the body means a comprehensive examination, which is carried out with the help of special devices and through the delivery of various tests. The data obtained allow us to make a complete picture of the state of human health, its internal organs and new formations, both benign and malignant.
Legal Assistance
The high efficiency of the services provided is due to the principles that guide us. This is a professional level of lawyers training, personal approach to each client, responsibility for the quality of services, focus on the wishes and interests of their principals.
Pharmacological Products
This industry is related to research, development, mass production, market research and distribution of medicines, mainly intended for the prevention, relief and treatment of diseases. Currently, the pharmaceutical industry is one of the most successful industries.
Organic Food Products for GLOBAL LONGEVITY
All over the world, the production of organic food is booming. This food contains on average 10–50% more vitamins, minerals and other nutrients compared to products produced by modern technologies. Organic food improves health, boosts immunity, and especially it is useful for children, pregnant women and nursing mothers.
Tourist Services
If you like to breathe fresh wind, wake up to the birds singing and the murmur of the stream, you want to plunge into the wonderful world of adventure – you have come to the right place!
Mining
Global Longevity's experience in this field has helped us build partnerships with leading equipment manufacturers and technology companies, which will allow us to successfully and profitably help our customers to carry out mining operations in the future.
ICO & STO Promotion
One can achieve all the goals successfully only when the professional skills are properly combined. Every member of our team is a skilled professional, who concentrates on the scope.
Absolutely the entire volume of issued tokens is fully provided with goods and services that are provided in our Global Longevity Market even if the cost of 1 Longevity (0,00001 ETH) is equal to 0,001 ETH. Thus, today the initial growth potential of the token is 9900%.
Name:
LONGEVITY
Ticker:
LGV
Type:
ERC-20
Platform:
Ethereum
Token Type:
Utility
Token Price:
0,00001 ETH
Soft Cap:
none
Hard Cap:
1.000.000 LGV
Return on Invest:
long-term token value increase
Purchase methods accepted:
All Leading Crypto and Fiat
Total token supply:
100.000.000.000 LGV
Private-sale & Public Sale:
89.000.000.000 LGV
Team:
5.000.000.000 LGV
Advisors:
3.000.000.000 LGV
Marketing Activities and Bounty:
3.000.000.000 LGV
PERCENTAGE OF TOKENS DISTRIBUTION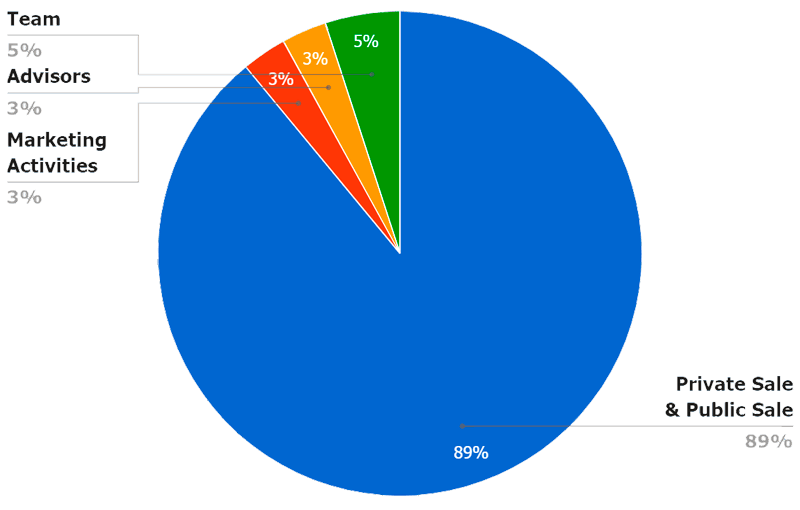 ALLOCATING AND USING FUNDS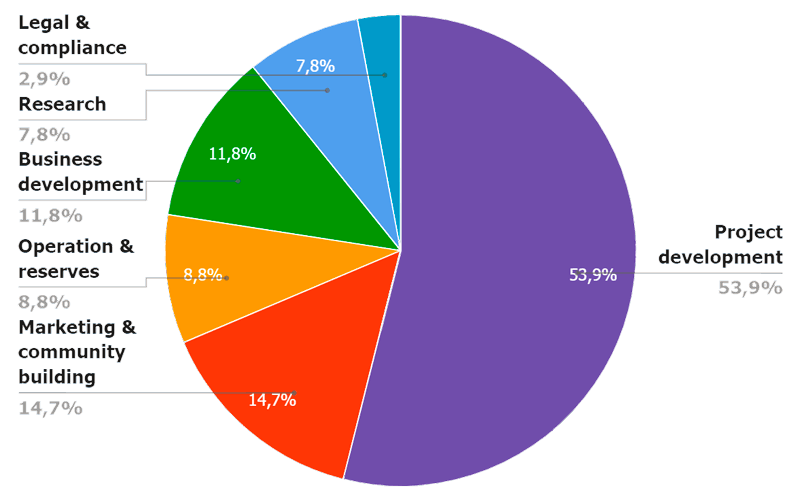 Investor Exclusions: Afghanistan, Angola, Aruba, Australia, Bangladesh, Belarus, Benin, Bhutan, Bolivia, Botswana, Brunei Darussalam, Burkina Faso, Bosnia, Burundi, Cambodia, Cameroon, Canada, Cape Verde, Central Africa republic, Chad, China, Comoros, Congo, Congo Democratic republic, Cuba, Cote d´lvoire, Djibouti, Dominica, Ecuador, El Salvador, Equatorial Guinea, Eritrea, Ethiopia, Gabon, Gambia, Ghana, Guatemala, Guyana, Guinea, Guinea Bissau, Haiti, Honduras, Iran, Iraq, Japan, Jordan, Kenya, Kyrgytz Republic, Laos, People's Republic, Lesotho, Liberia, Libya, Madagascar, Malawi, Mali, Mauritania, Micronesia, Moldova, Mongolia, Mozambique, Myanmar, Nauru, Nepal, New Caledonia, Nicaragua, Niger, Nigeria, Niue, North Korea, Oman, Pakistan, Palestinian Areas, Papua New Guinea, Republic of Korea, Reunion, Rwanda, Samoa, Sao Tome and Principe, Senegal, Sierra Leone, Somalia, South Georgia, Sudan, Sri Lanka, Suriname, Syria, Swaziland, Tajikistan, Tanzania, Timor, Togo, Tonga, Tunisia, Turkmenistan, Uganda, United States, Uzbekistan, Venezuela, Western Sahara, Yemen, Zambia.
Official opening Global Longevity Institute
Approval of the concept of creating an ecosystem within the program of Global Longevity
Selection and approval of the region for the pilot project of Global Longevity
Initiation of a material base for a pilot project of Global Longevity
Completion of work on the creation of a material basis for the pilot project of Global Longevity
Deciding on the implementation of blockchain and cryptocurrency in the project of Global Longevity
Start preparation for ICO Global Longevity
Cryptocurrency issue Longevity
Full launch of the Global Longevity project
Development and implementation LGVM
Start development and implementation Global Longevity Metaverse